NC Yam Festival Pageant 2019 – October 26, 2019
October 19, 2019, 6pm at SCHS
Tickets are $10 and a program will be included. Children 5 and under are free
DOWNLOAD or VIEW the 2019 Pageant Application
Our 2018 Pageant Winners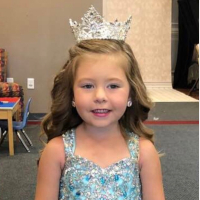 Addison Prevatte

2018 NC Yam Festival Mini Ambassador
Addison Grace Prevatte is the 5 year old daughter of Tyler and Ashley Prevatte of Evergreen,NC. She has loved representing the NC Yam Festival for her second year now as your Mini Ambassador. Addison will be attending Kindergarten in the fall, starting her 4th year of Dance, and looking forward to finishing out her year as a Yam Queen that loves the beautiful town of Tabor City!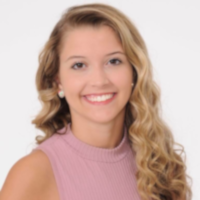 Tomie-Lynn Sing

2018 NC Yam Festival Young Miss
Tomie-Lynn Sing is the 13 year old daughter of Tommy & Christy Sing. She is the youngest of 4 daughters, she enjoys competitive dance and having fun with her family and friends. Tomie-Lynn enjoys representing her community and her favorite part of being a Yam Festival Queen is meeting new people.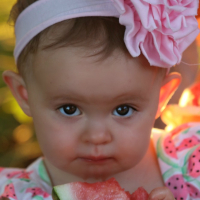 Mia Strickland

2018 NC Yam Festival Baby Miss
Baby Miss Yam Festival, Mia Evelyn Strickland, is the 2 year old daughter of Gina Strickland of Tabor City. Not only does Mia share her birthday with her twin sister, Mallory, but she shares it with her momma & aunt as well. Mia loves being a Yam Queen because she gets to make new friends, wear a pretty crown & eat lots of candy during parades!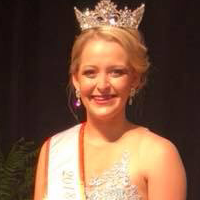 Megan Daniels

2018 NC Yam Festival Queen
My name is Megan Daniels. I am the nineteen year old daughter of Terry and Gwen Daniels of Evergreen, NC. One interesting fact about myself is that I will be starting the nursing program in the fall. I enjoy being a NC Yam Festival Queen because I enjoy representing a great town with a big heart and spreading the word about the wonderful festival and the people in it.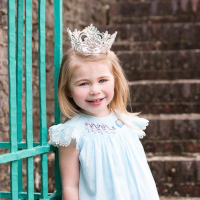 Kylie Bell

Festival Tiny Miss
My name is Kylie Brooke Bell. I am the reigning N.C . Yam Festival Tiny Miss, I am 3 yrs. old. My parents are Kyle and Lindsey Bell of Longs, S.C. During my reign, I enjoyed going places and meeting the most wonderful people. I love telling them that I am the "Tater Queen''! In my off time, I love to play with Chubbs my pony and Major my boxer dog. My favorite things are to hear stories, watch Puppy dog pals, visiting my grandparents, shopping, ridding my pony, and playing in my mama's make up.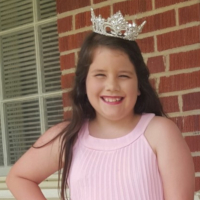 Becca Faye Holmes

2018 NC Yam Festival Little Miss,
Becca Faye Holmes NC Yam Festival Little Miss.
She is the daughter of Christopher and Ashleigh Holmes. She is enjoying being the little miss yam queen thus far. Her favorite events have been the parades and the fireworks held at the South Columbus High school. When Becca Faye is not wearing her crown and spreading sweet Hello's you can find her on the ball-field playing softball or reading a book.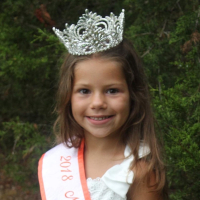 Aria Gracelyn Bowen

2018 NC Yam Festival Petite Miss,
Aria Gracelynn Bowen is your 2018-2019 Petite Miss Yam Festival Princess and 2018-2019 Overall Beauty Winner.
She is the six year old daughter of Mr. Casey and Mrs. Jamie Bowen. Aria has two sisters: Abigail and Lily whom she absolutely loves. She is attending Williams Township School where she will be advancing to the first grade.
Being a princess comes with its fun, excitement, new experience, and pageant duties. Aria has loved fulfilling those duties by attending parades, pageants, and fundraisers. The excitement and experience of events will forever be a special place in Aria's heart. Moments that she will always cherish. She loves getting dressed up, meeting new people, and doing things that she may never had done before. Being the Petite Yam Festival Princess, Aria has grown as an individual and made new sister queens in Christ, whom she adores and loves spending time with.
"I love being a Yam Princess, because I get to make new friends."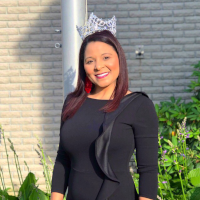 Mrs April Marie Tedder

2018 NC Yam Festival
April Marie Tedder
Age: 39
Wife of Richmond. Mother of Shandorah and Lainey.
Fun fact: Has a cowgirl boot addiction. Owns well over a dozen pair
I enjoy being the NC Yam Festival Mrs because it affords me the opportunity to travel and talk to others about our town and our festival. It also gives me the opportunity to minister to my sister queens.